Support the CHCU at "The Ride goes to Neigh-Bours: For Charity"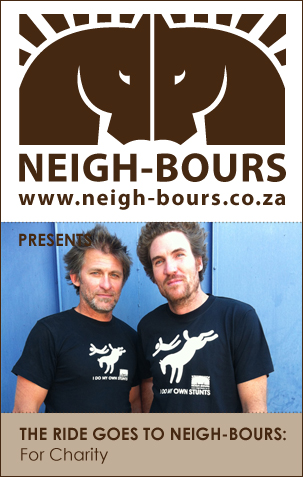 Title: Support the CHCU at "The Ride goes to Neigh-Bours: For Charity"
Location: Canterbrooke Equestrian Estate
RSVP on the Facebook event: Click here
Date: 2012-06-17
Start Time: 08:00
End Time: 16:00
Description: OUTRIDE, FLEAMARKET & AUCTION!!
(Come to one, or all :))
Ride with 'The Ride' Outride with Joe and Barry!
Bring your horse, wear your Neigh-Bours shirt if you have one, and come along Cost: R100 per rider (for charity), meet at Canterbrooke at 8am, ride out at 8:30!
Click www.facebook.com/events/241246962647107 to see more about that
Lynn Bremner Dressage Exhibition • The Outlaws Linedancers • Diamond X Western Exhibition • Bridget Hampton Natural Horsemanship Demo • Elke Haas Ttouch Demo • Neigh-Bours' Groom of the Day appearance • Peggy Sue's Tinker Horses • The Barry & Joe Show • The Ride Auction • Neigh-Bours Birthday • Nikki Wulfe Mounted Archery Exhibition
Parade your Pooch Ugliest/Prettiest dog competition • Dress Up Dog & Owner Look Alike competition • Canine Cable Stitch competition:
All dogs on leashes please! R20 to enter (goes to charities); win prizes and rosettes.
The Canterbrooke Charity Cup Power Jump competition
Power jump! R100 to enter the class (goes to charities); have a bet on who YOU think will win!
Click www.facebook.com/events/396005887111209/ to see more about that
Have your photo taken with Joe & Barry and have it autographed • Face painting for the kids • Pony rides • Carriage Rides • Raffles • Prizes • Stalls
** DROP OFF POINT FOR YOUR OLD TACK FOR CHARITY **
BUSINESS OWNERS: DO NOT MISS THE OPPORTUNITY TO HAVE A STALL AT THIS AMAZING EVENT!
STALLS AT THE MARKET COST R100 EACH and that goes to Cart Horse Protection Association, the Highveld Horse Care Unit, and the Coastal Horse Care Unit.
We ask that stall holders please donate an item from their stall for a raffle hamper!
email info@neigh-bours.co.za to arrange a stall space!
————————————————————————
8:30am NEIGH-BOURS BIRTHDAY OUTRIDE WITH THE RIDE
————————————————————————
Neigh-Bours is thrilled to be celebrating their 3rd birthday with Barry and Joe from The Ride in an outride around the very beautiful Canterbrooke Equestrian Estate.
The Ride asks that the spirit of generosity so graciously shown in INTO THE UNKNOWN extends itself to also supporting their chosen charities: the Cart Horse Protection Association, the Highveld Horse Care Unit, and the Coastal Horse Care Unit on this day too, and pay R100 to join this ride to go to those 3 charities.
Bring your horses, box out and Ride with Barry, Joe and the Neigh-Bours girls. Meet at Canterbrooke at 8am, ride out at 8:30.
Back by about 10:30 for the traditional Neigh-Bours birthday cake!!
emaiil surea@canterbrooke.co.za for more info
———————————————
11:00am FLEA MARKET FUNDRAISER
———————————————
Join Barry & Joe at Canterbrooke for a Horsey Fleamarket!
** AUTOGRAPHED PHOTOS OF YOU WITH BARRY & JOE ** STALLS ** FUN ** FOOD & DRINK ** PONY RIDES FOR THE KIDS **
"THE RIDE" AUCTION!
There will be one-of-a-kind-actually-used-by-Barry-and-Joe items up for auction!
Don't miss this opportunity to own a truly unique piece of memorabilia!
Barry Armitage and Joe Dawson set out on their latest expedition, Into the Unknown, from the Kwa-Zulu Natal in November 2011. With their horses, Cola, Cherokee, Pat and Jack, and back-up crew Leanne Black and Natalie Basson, they planned to ride to Cape Town. Part fund raiser, part road show, part social experiment, they trusted in the spirit of goodwill of their fellow South Africans to provide places to stay for their horses, and for themselves. Their journey has not only touched hearts, but appealed to the spirit of adventure which many of us would dearly love to explore.
This event is the wrap up Fundraiser of that epic expedition.
——————————————————————————–
For more information about The Ride:
Sarah Dawson
+27 83 393 5008
info@theride.co.za
www.facebook.com/barryarmitageadventure
For more information about the Cart Horse Protection Association:
Megan White
+27 [0]21-535 3435
megan@carthorse.org.za
www.facebook.com/CartHorseProtection
For more information about the Highveld Horse Care Unit:
www.horsecare.org.za/
www.facebook.com/highveldhorsecare
For more information about the Coastal Horse Care Unit:
www.coastalhorsecareunit.org.za/
For more information about Neigh-Bours:
www.neigh-bours.co.za/
www.facebook.com/neighbourscoza
For more information about Canterbrooke Equestrian Estate:
Surea van Schalkwyk
+27834693421
www.canterbrooke.co.za/
www.facebook.com/canterbrooke

Leave a comment