How can I help?
The CHCU **URGENTLY** require HORSE FOOD!!!
PLEASE could you donate us a bag of horse food by buying a bag or donating R80-R120 monthly

Please phone:

Gill – 073 550 3061
Jacqui – 083 633 8986
Wish List for Stables and Rural Clinics:
Bemer electro-magnetic therapy to treat injured horse
Large 4 X 4 Towing Vehicle
Grooming Kits + Bags
Halters and Leads
Brooms
Drive on/ normal Lawn Mower
Stihl brush cutter
Tractor for cutting hay
Poles – Crush pens for wild unhandled horses
Shelters x 1
Wendy House or Parkhome
Telephone poles
Sand for arena
Roofing for shelters
Hose pipe for stables
Buckets/Feed bins
Saddles
Bridles / Bits
Numnahs
Girths
De­wormers solution 3.5 for rural clinics
Feed /hay
Electrify Parkhome
Nose Bags for feeding
Wishlist for Office:
Wooden shelving
Cuttlery for tea room
Metal Filing Cabinets
Paper
Stationery
Fridge
Cement and Stone for flooring for rondavel
Jo-Jo Water Tanks x 2 1000 Litre
MONETARY DONATIONS
JOIN OUR SPONSOR A BAG OF FEED R80-R120 PER MONTH
SPONSOR A STABLE R800 PER MONTH
SECOND HAND TACK FOR RURAL CLINICS
ALL DONATIONS GRATEFULLY RECEIVED
Fostering a horse: either temporary or long term;
FOSTERING:
We need foster "parents" to help us with recovering horses, and so that we can make resources available for other confiscated animals desperately needing our help. Some horses just need to rest and relax for a couple of months before we can re-home them, some just need to be given a stable routine and good handling.
If you can offer the following: · sound equine knowledge · stabling and paddocks · access to veterinarians · TIME to spend with recovering/fostered horses · the financial ability to feed and care for horses
RE-HOMING
While foster care is temporary, re-homing is permanent.
For horses, ponies and donkeys which are sound in mind and body and are of an age that they can be re-homed. If you are in a position to give a horse, pony or donkey a permanent home, please contact us.
RE-HOMING PROCEDURE
Re-homing is a serious business and requires long-term commitment. The procedure is as follows:
1. Complete the prescribed application form below (applicants must be over 18 years old)
Anyone over 18 may make an application or an adult may apply on behalf of a minor on the form provided.
2. The CHCU equines may not be used for commercial purposes and are therefore not placed in riding schools, pleasure resorts etc.
3. Applications will be kept on record at the CHCU for an average of six month period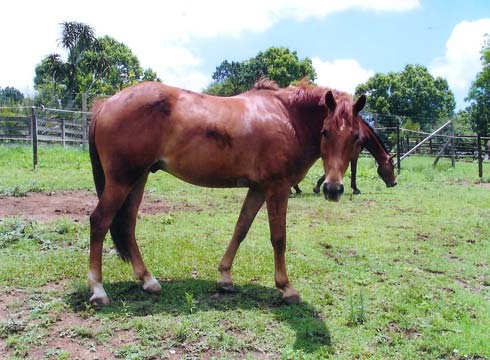 VISITS
1. Subject to their suitability, the re-homer will be invited to the Farm to meet prospective equine and to ensure their compatibility.
2. Once placed, the CHCU will inspect the equine unannounced at regular intervals.

TRANSPORT
1. The re-homer will be required to meet the cost of transporting the equine to their premises and its return to the CHCU if applicable.
FEES AND COSTS
1. No fees are involved other than expenses incurred by the CHCU, i.e. in the rehabilitation of the equine, registration and administrative costs.
2. Whilst in their care, all costs relating to the equine are to be met by the re-homer
INSPECTIONS
1. The CHCU will inspect the equine unannounced at regular intervals.
2. The CHCU maintains the right to remove any equine found to be in ill health or mistreated or if any of the conditions of the adoption agreement is breached.
CONDITIONS
1. UNDER NO CIRCUMSTANCES MAY THE EQUINE BE SOLD, LOANED, REHOMED OR GIVEN TO ANY OTHER PARTY. IT REMAINS THE PROPERTY OF THE COASTAL HORSE CARE UNIT.
LEGAL CONTRACT
1. All re-homers will be required to sign an Equine Re-homing Policy, which sets out the terms and conditions of the re-homing.)
2. Regular donations of food and hay; donations of tack both for the tack shop and for rural clinics; donations of much needed veterinary supplies
3. Donation of your personal time and resources – can your private business help in any way? We will advertise for you on our site
4. Membership options – monthly; annual; family, etc…
5. Online monetary donations
6. Buy a "Basic Horse Care Manual" – printed copy R70; copy on cd R40
7. Corporate or school sponsorship
8. Organize your own fundraising event
9. Lasting gifts
a) Remember horse welfare in your will – leave a legacy: Our goal is to provide life-saving care for abused and injured equines, but if we are to try and end the suffering and improve the standards for working equines for the long term, we need to look to the future. We must ensure that we have the resources needed to ease their pain — or better still, prevent it from occurring in the first place. We respectfully request that you consider including a legacy in your Will, to the CHCU. In doing so you will continue to help us treat these animals as long as they need it; and also to continue to teach owners how to care for their donkeys and horses.
b) "In Memory" donations
c) tribute gifts – for family or friend's Birthdays or Anniversaries