NEW EMAHHASHINI TRAINING CENTRE
EMAHHASHINI TRAINING CENTRE handover and naming was done  with an event held on the Coastal Horse Care Units Rescue Farm on the 3 May 2016. The Honourable MEC of Treasury in KZN, Mrs Belinda Scott handed over the project after helping to complete the building and also named it EMAHHASHINI Training Centre which means horses. The mayor of Mkhambathini Cllr Maphumulo opened and welcomed all the role player and supporters. Messages of support were given by Gold Circle, DSR and Rural Horse Riding. We are honored by all who have supported this dream of having this training centre to help take services to Rural Horse Owners and Horses. Exhibitions of our proposed training, done by our Rural Team was a great success. Displays on the training in saddle making and leather work, farriery, basic horse Care and Veterinary for horses and Nutrition. Four rural race horses came out to do a display on Rural Racing.
We are proud of what we have achieved.
BY HELPING FIX A HORSE YOU ARE HELPING THAT HORSE. BY TEACHING A MAN TO FIX HIS OWN HORSES YOU ARE HELPING MANY HORSES.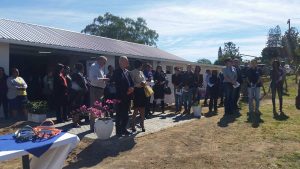 Education achieves Horse Welfare Solutions -This is a very emotional day for me today and my eyes were wet this morning with tears….the start of the Training Center at our rescue Farm in Cato Ridge. This has been a dream of mine from when we started and it has finally started. The problems we experience with working horses in the rural areas is mostly due to lack of education and resources. With the help of International Welfare Organization World Horse Welfare we are on the road to achieving our objectives of transferring skills to rural horse owners to help improve the welfare of these horses. KZN Bookmakers are assisting us with some of the funding for the building of this Equine Educational Center but we still need to secure further funding.
Leave a comment